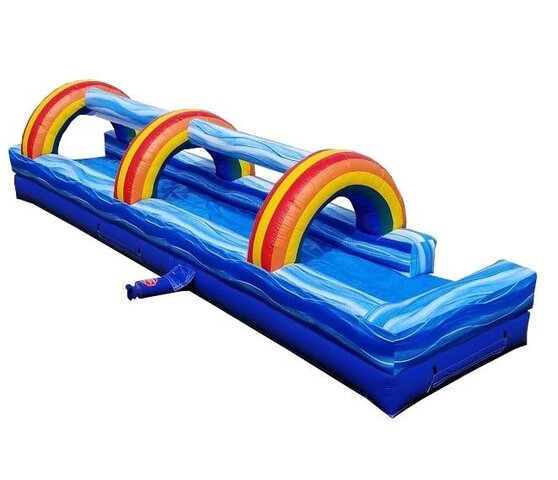 Blue Marble Slip N Slide
Turn up the volume on good times in the hot summer heat with our 30' Blue Marble Inflatable Slip n Slide. A perfect stand-alone inflatable slip n slide, this 30' long slip n slide is easy to set up and the built-in misting system connects to a standard garden hose. Just hook it up and you're ready to go!
All of our inflatable slip n slides were designed with children's safety at heart, featuring an inflated landing zone with built-in drains that keeps the water level low enough for a good time, but safe enough for kids of all ages.
***

NO DIRT, ROCK, GRAVEL OR MULCH SET-UP

***
CUSTOMER MUST PROVIDE WATER HOSE WITH A CONNECTION
THAT REACHES THE SET-UP AREA.
WE CANNOT TAKE THIS UNIT UP OR DOWN ANY STAIRS OR HILLS.
THE PATH TO THE SETUP AREA MUST BE FLAT AND THE ENTRANCE MUST BE AT LEAST 4FT WIDE.
CUSTOMER IS RESPONSIBLE TO MEASURE SETUP AREA
**MAKE SURE THERE IS NO POWER/INTERNET/PHONE CABLES ON TOP OF THE SETUP AREA**
PLEASE NO FRESH CUT GRASS