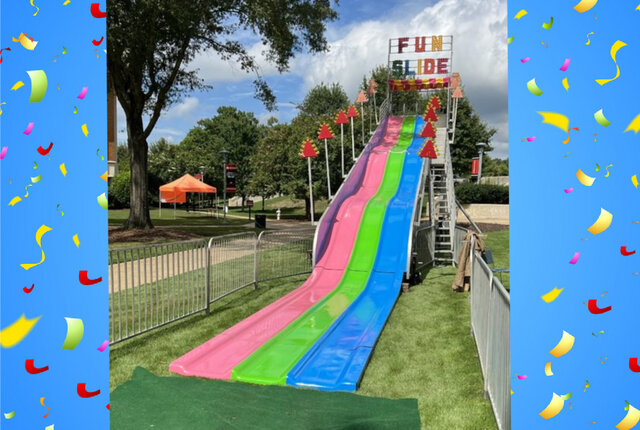 Fun Slide




$3,995.00

Please call to reserve this item

Giant Fiberglass Fun Slide – Daily Rental
At 30′ tall, a bright-colored Fiberglass Slide attracts a lot of attention! These giant slides are always a nice choice since ALL AGES enjoy them! With 3 Lanes, the slide can process a whopping 300-400 kids or adults per hour. Needs an area of 90'x15′ for the slide plus the fencing around it.
Prices include attendants and running time, plus delivery.
Fiberglass Slides Info
Because Fiberglass Slides are not mechanical rides, they do not get inspection stickers from the state. This also means that they can be used at an event without a permit, and where mechanical rides are not allowed.
Although the slide itself does not need power, if your party or event runs after dark, the lights on the attraction will need power. And during colder weather, the Fiberglass Slide has a heater underneath to keep the surface warm enough for guests to slide well down it.
Delivery of Fiberglass Slide Rental
Fiberglass slides are typically delivered with a semi-truck, but if our lighter weight slide is available, that can be delivered with a smaller truck.